LuciGold

A Proud Contributor to the Teddy Roosevelt Sagamore Hill Memorial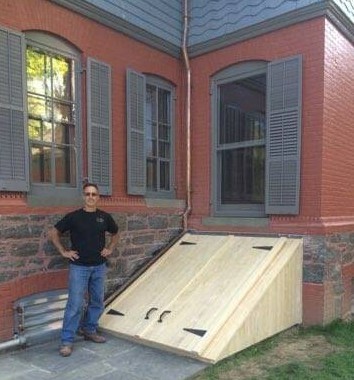 ​​
​
We were asked if we could build a custom basement bulkhead
door that replicated the original but with modern functionality;
we were honored and determined to provide a stellar reproduction. 
This cellar door is built on our aluminum infrastructure--the basis
for all our basement bulkhead doors. We used some of the finest
wood available as an overlay. The result is the bulkhead the gives
the 
 appearance of a classic two-door 
door
wooden plant bulkhead, 
when, 
it is a single
door hatch style bulkhead
that is easy to
open and will last a lifetime.

 
We are a family owned & operated business, and this is how we approach every job. We strive to produce the best possible product for all of our customers. Finding the idea solution for every challenge! 
Give us a call; let us help you make your visions become a reality!  
​
​
Peter Luciani | Owner | Designer